IMDA Welcome Event – Thursday 10/19 – 12pm – 1:30pm

Please join the Visual Arts Department in welcoming our new Intermedia and Digital Arts (IMDA) Graduate Students to UMBC. On Thursday, October 19th from 12:00-1:30 pm, we will host a fun and engaging round of micro-talks at the CADVC, with a mixer afterwards. Our new grads will give short presentations about their research and art practice. Stop by to say hello and meet the IMDA class of 2026! Refreshments will be provided!

Bao Nguyen (they/them) is an experimental vocalist and performance artist born in Vietnam and based in Baltimore. Through performance, sound, video and interactive media, Bao's practice examines oral traditions to reconsider the history of Vietnamese nation-building and devise new connections between ourselves and the landscape.

Lynn Nguyen's artwork combines technology and sculpture to create interactive and kinetic artworks. Nguyen's sculptures are inspired by the natural beauty of wood and draw on her background in the sciences to invoke the feeling of living things as they move.

Nia Hampton is a cultural worker from West Baltimore who works across visual arts, journalism and cultural organizing. Nia is the founder of the Black Femme Supremacy Film Fest and uses multimodal creative methods and tools to tell the stories of those who are misrepresented in the media with empathy and care. 

Taylor Goad: Is a designer and animator currently working with After Effects and Illustrator. As an IMDA MFA student, Taylor will explore multimedia processes including screen printing, 3D printing and/or physical animation projects like Automata Boxes or Zoetropes. 

The Intermedia and Digital Art (IMDA) MFA program provides participants with access to eminent faculty, visiting artists, critics, and curators, studio space and state-of-the-art facilities.
Recent graduate students have pursued issues of food justice, surveillance, place, language, economics, and technology, resulting in projects that use a range of traditional gallery-based art media as well as experimental modalities, like street interventions, distributed networks, physical computing, games, and community-based projects. Financial support, including tuition remission and stipends, is available. 

IMDA is committed to making its events accessible to everyone. Please send your request for specific accommodations to imda@umbc.edu.
MIND OVER MATTER: MFA THESIS EXHIBIT 2023 APRIL 14- MAY 3
Liza Aleinikova
An artist's self-portrait imagined as an unconventional sacred space,
subverting and re-imaging Russian folktales through a mix of animation, projection mapping, and sculptural objects.
Liza was the winner of the RTKL artist award in the second year and gave a special Artist's talk.
Fahmida Hossain
IG: @ela.and.art
Anna Kroll 
The Space is a Body and You Are In It  is a collaborative world-building game played by two people. Together, you inhabit this imaginary space. This space and the events that take place inside will be devised and described through your game play. A sigh can cause a hurricane. A patch of moss can devour the whole space. The sun can deflate into a balloon you rest your head on. A tear can become a flood and suddenly you are an island.
IG: @krollercoasters
Web: 
www.annakroll.com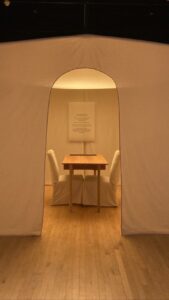 School Year 2022-2023 Notable Events
Spring 2023
The Manic American Humanist Show
Second Year Tomi Faison participated in a group show in NYC with her 7 channel video installation "LackLoop."
Building on the culture-jamming roots of post-internet art, the show aimed a light on contemporary alienation as seen in the fringe political corners of the internet, from video games to 7chan and the memescape.⁠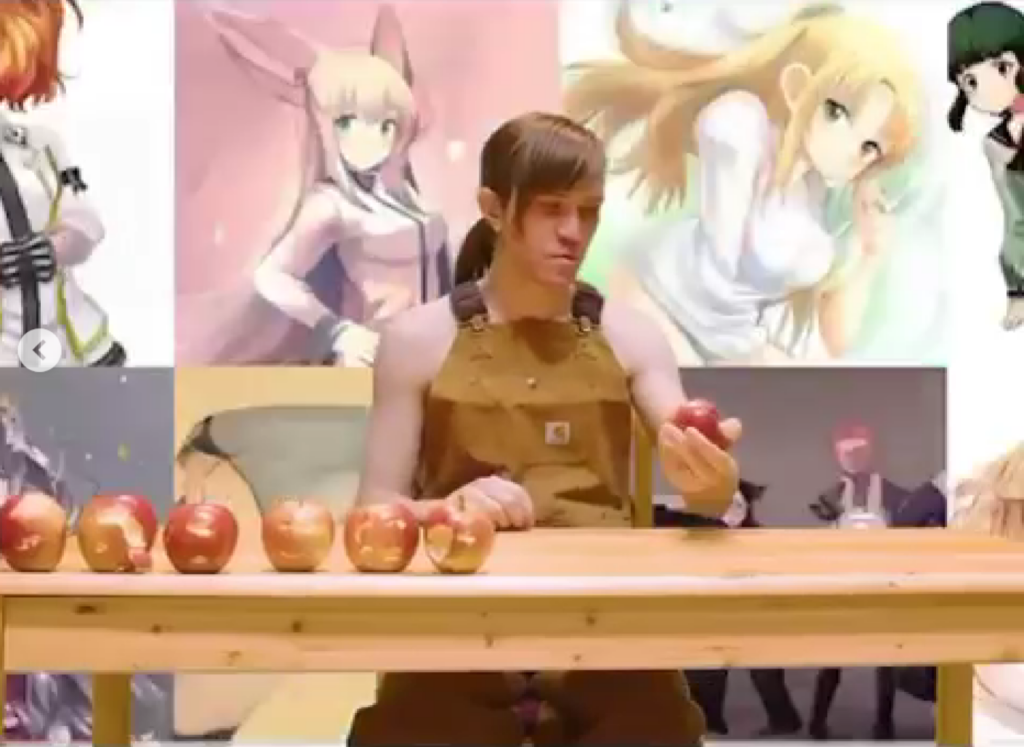 Fall 2022
Haunted Koreas
Alumna Mina Cheon ('02) works for Korean unification with her North Korean alter ego counterpart, Kim Il Soon, through "asynchronous communication." Crossing borders by sending and receiving art between North and South Korea, the artist brings the remnants of her global activism by sharing the recent works from the Inaugural Asia Society Triennial and The Korea Society in New York, respectively, between 2020 and 2021, as a comprehensive solo show for the Alper Initiative for Washington Art at the American University Museum in Washington, DC.
A Walk in Progress
"A Walk in Progress" meanders through forests, clouds, sasquatch sightings, human rights, human wrongs, ping pong, and hope despite experience. It's like a near-sighted, space telescope on an odyssey in search of corrected lenses.
Andrew Liang exhibited at Current Space. Animation, sculpture, and self portraits: commenting and exploring the rationality of human behavior, the meaning of morality, and humanity's relationship with its environment.
Older Events