TRANSPORTATION
Navigating UMBC I Mass Transit I Navigating the Region I Directions, Cars + Parking I Trip Planners
NAVIGATING UMBC
TRANSPORTATION TO|FROM UMBC + BALTIMORE CITY
IMDA STUDIOS AT THE LION BROTHERS BUILDING
The IMDA program is divided between the UMBC campus in Catonsville suburb and the graduate studios at the Lion Brother's Building in downtown Baltimore. The studios are located in the Hollins Market neighborhood and UMB's BioPark, a few minutes walk from the Bromo Arts + Entertainment District. IMDA students use a combination of bikes, cars and mass transit as their source of transportation.
A free shuttle bus shuttles between UMBC and the University of Maryland Baltimore [ UMB ] campus near the graduate studios. The IMDA community benefits from the connection of Baltimore's free Charm City Circulator where the Orange Line stops outside the Lion Brother's Building. Therefore IMDA graduate students have free access to mass transit as far East as the Fells Point neighborhood of Baltimore and as far north as the Station North Arts & Entertainment District and Penn Station Railway during business hours and weekday evenings.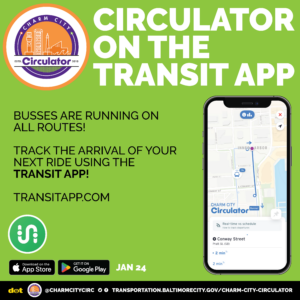 College students may receive an unlimited MTA transit pass at a reduced rate. The MTA Light Rail stop closest to the IMDA studios is the Baltimore Arena|University Center. The most popular bus is the 35 MTA bus that goes from UMBC to Hollins Market area, a few minutes from the studios.
When visiting the IMDA graduate studios at the Lion Brother's Building, remember to buzz UMBC by scrolling the A|Z intercom interface at 875 Hollins Street for entrance to the building.
UMB/UMBC Downtown Shuttle
Maryland Transit Authority [ MTA ]
Baltimore Bike Map 
UMB campus map
MTA schedules
MTA students pass
MTA Light Rail
Charm City Circulator
NAVIGATING THE REGION
Baltimore has many options for inexpensive travel throughout the region to Washington DC, Philadelphia, New York and beyond. The Bolt Bus is an inexpensive option, but there are many others The Marc Train is a commuter that primarily travels between Baltimore and DC and Amtrak is national. UMBC is conveniently located near BWI airport and with its location on the southwest of Baltimore, it's convenient to Washington DC [ a 20-minute drive to the DC Beltway ]. The trains are available in Catonsville, BWI airport, downtown Baltimore, including Penn Station in the center of Baltimore. The Bolt Bus is also available from Penn Station.
The Light Rail will go to BWI and Penn Station, and the Charm City Circulator Purple Line travels to Penn Station.
CARS + PARKING
Campus parking is free in marked lots after 4pm for events. For other times, there are coin lots near administration, and there is a new code in place for temporary parking permits. Please contact: parking@umbc.edu in order for departments to purchase temporary parking vouchers for guests and researchers.
Directions and Campus Parking
UMBC Zip Cars
UMBC Student Parking Permits
Baltimore Zip Cars
Zip Van
Parkopedia
Taxis
Uber
Lyft
TRIP PLANNERS
Marc Train, Light Rail, Subway and Bus Baltimore \\ DC
MTA Trip Planner
Amtrak