Our Visiting Artists Lecture Series offers public lectures and one-on-one graduate student studio visits with prestigious guest artists and critics. Visiting lecturers include:
Ram Devineni, Janine Antoni, @rtMark, Stephanie Barber, Signe Baumane, Zoe Beloff, Michael Bierut, Catherine Chalmers, Paul Chan, Abigail Child, Annica Cuppetelli and Cristobal Mendoza, Paul DeMarinis, Tony Dove, Johanna Drucker, James Duesing, David Dunlap, Hasan Elahi, eteam, Wendy Ewald, Darko Fritz, Guerrilla Girls, Dana Hoey, Nina Katchadourian, JoAnn Kuchera-Morin, Matmos, Larry Miller, Alison Knowles, Margot Lovejoy, Joseph Nechvatal, Simon Penny, Keith Piper, William Pope.L, Michael Rakowitz, Andrea Robbins and
 Max Becher, David Rokeby, Carolee Schneemann, Mark Tribe, Ted Victoria, Fred Wilson, Martha Wilson, Karen Yasinsky and The Yes Men.
---
UPCOMING:
CIRCA PRESENTS
Jules Rosskam's film Paternal Rites,
will be screening at Creative Alliance on Friday, September 21
Ryan Hoover
Thursday, September 27
Time: 5 PM,  Place: Recital Hall FA118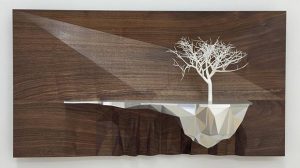 Ryan Hoover is an interdisciplinary artist and researcher actively addressing the impact of emerging technologies on our more-than-human world. Often operating at the intersection of digital and biological systems, he develops software, hardware, and biomaterials to create novel solutions to contemporary issues and open new understandings of our shared future. He works with scientists, engineers, and activists in a
collaborative practice driven by creativity, supported by shared knowledge, and motivated by ethical concerns for our present and future. He teaches digital and biological fabrication at the Maryland Institute College of Art, and is a member of the board at the Baltimore Under Ground Science Space. Hoover is the lead developer of Xylinus, a tool for novel control of 3D printers, integrated into the Rhino/Grasshopper CAD platform, with users ranging from craftspeople working in clay to researchers bioprinting cells. His work is exhibited, downloaded, and put to use in galleries, labs, and studios around the world.
CIRCA Presents
Mark Alice Durant and Gary Rozanc \\ New Publications
Wednesday, October 3
Time: 12 PM – 1:00 PM,  Place: PAHB 223
Iman Djouini
Wednesday, October 24
Time: 5 PM,  Place: Recital Hall FA118
Iman Djouini b. Algiers, Algeria is a multidisciplinary artist who works in print media, digital fabrication, installation, photography, film and public art. She received a Master of Fine Arts in Printmaking from Tulane University and a Bachelor of Fine Arts in Painting and Art History from The Maryland Institute College of Art. Her research-based practice explores the employment of language and design as tools for shaping perception. Recent works have looked into uses of symbols found in images, text, flags, textiles and data. She critically investigates theoretical frameworks like binary opposition, delineation and compartmentalization in contested cultural and political histories. Djouini is currently a professor of Art and Design at the Center for Art and Media at Goucher College and the Maryland Institute College of Art.
Gary Rozanc
Thursday, November 15
Time: 5 PM,  Place: FA107A
Workshop and lecture: "Demystifying Design Thinking"
Gary is an assistant professor of graphic design at the University of Maryland, Baltimore County and host of the
Design Edu Today podcast. Gary's research interests lie in determining the necessary competencies required to
innovate communications, products, and services in screen-based environments. Gary's specifically interested
in determining the core skill sets required of entry-level web and user experience designers. Gary's forthcoming
publication Browsers, Devices, and Fonts: A designer's guide to fonts and how they function on the web (CRC
Press, December 2018) guides design practitioners to anticipate how typographic choices in web page structures
behave as live code on varying devices and screen sizes. Gary received his BA in Graphic Design from
Cleveland State University and his MFA in Visual Communications from the University of Arizona.