At our graduate review day event today, Mina Cheon (IMDA '02), presented the first MFA Thesis Award to graduating IMDA student Parastoo Aslanbeik. This fund was founded and inspired by Mina, and the IMDA program is especially grateful for her leadership and generosity. Each year, one graduating IMDA MFA student will be awarded $1000 for the most outstanding thesis exhibition and written thesis. Cara Ober, artist and editor of BmoreArt, served as juror.
Selected photos from the MFA Thesis Exhibition, Lucky Suns
Lucky Suns – MFA Thesis Exhibition
Opening Reception: April 6th, 5:00 – 7:00pm
Through April 3 – April 25 at CADVC
The Center for Art, Design and Visual Culture presents the annual MFA Thesis Exhibition, featuring works by the seven graduate students will who receive MFAs in Intermedia and Digital Arts in 2018. The work selected represents the culmination of each student's unique experience in UMBC's dynamic and demanding MFA program.
Parastoo Aslanbeik's installation is an exploration of immigrants' lives and the influence of the recent "Travel Ban" or "Muslim Ban" on a certain group of people due to their ethnicity and race. She investigates the idea of diversity and equality in her research and thesis by combining an old photographic technique (wet plate collodion) with sound, light, and sculpture. Simple materials such as tree branches and cardboard boxes are brought together in her monumental sculptures to create metaphors for equality.
Mollye Bendell makes digital and analog sculptures to connect with digital and analog worlds. Her work uses the intangible nature of electronic media as a metaphor for exploring vulnerability, visibility, and longing in a world that can feel isolating. Her immersive installation Wander/Wonder explores the nature of speculation and our changing relationship with physicality. The exhibition consists of two separate but connected experiences: the Wander, a walkable street map of Baltimore City with all buildings removed except for psychic reader storefronts and the Wonder, a zero-gravity digital astral plane experienced as a virtual reality environment. While a participant flies through the Wonder side, the Wander side is projected on a screen for spectators. A single crystal ball controller navigates both environments – one person guides the experiences of spectators in Wander while immersed in the VR environment of Wonder.
Jeffrey L. Gangwisch's work explores the interaction of digital and physical media with a focus on the human figure.  His contribution to Lucky Suns explores three-dimensional figure scans incorporated into laser-etched photographs, illuminated 3D printed sculpture, and augmented-reality installation.
Christopher Kojzar creates art in response to interactions he has with other people when he enters active public spaces and openly engages in practices such as drawing and live action video. Sketching in public has prompted interactions with security personnel, police officers, TSA agents, and pedestrians, and he explores the increasingly troubled phenomenon of observing and being observed in an era of escalating surveillance and mistrust—complicating it further by signaling his identity as an artist. The gallery showcases his drawings, immersive video and sculptural installation, shaping a nuanced body of work about the oppositional gaze and the implied hierarchies of observation.
MJ Neuberger's thesis work, Mending Nona's Piña, takes its title from her attempt to mend an heirloom cloth made by native Filipino weavers with strands of her hair, suggesting how forces of colonialism enabled intergenerational trauma and abuse in her family. Weaving her hair into natural materials and settings, Neuberger posits a return to an indigenous body/self that is Othered in abuse and colonization, and, combining her tears with water blessed in a native healing ritual, she suggests the transformative power of grief.
Mitchell Noah's thesis represents an alternative vision of public service within public space—reimagining the participants, practices, tools, and iconographies through humor, craft, and design. Through playful reconfiguration, otherwise mundane maintenance activities become touchstones for serious issues: utopias, justice, social cohesion, mobility, infrastructure, and labor. By finding ways of working around failing structures and intervening with ad-hoc methods at a city-block scale, his works of sculpture, video, drawing, and found objects reclaim public space.
Idil Yakut evaluates various aspects of communication, questioning how translation can or cannot serve as a path to understanding the complex roles of language in expressing embodied experience. Mining language's capacity in sound, text, and image, the videos in her installation challenge clarity of speech, showing its fundamental state of flux, and her texts test the power of translation, exposing its limits while also inviting embodied interaction.
Admission to all events is free. Free parking is available immediately adjacent to the Performing Arts and Humanities Building in Lot 8 during evening and weekend hours.
For more information about the exhibition contact the CADVC, call: 410.455.3188 or visit: cadvc.umbc.edu
For more information on the IMDA MFA program or to contact the MFA candidates, contact the Graduate Program Director: grabill@umbc.edu.
The Center for Art, Design and Visual Culture is open Tuesday – Saturday, 10 a.m. – 5 p.m., and is located on the first floor of the Fine Arts Building.
Go to event page.
The Intermedia + Digital Arts MFA program is committed to emerging practices that pose unique conceptual and social challenges. Graduate students are provided with newly retrofitted downtown Baltimore studios, state-of-the-art labs; close relationships with active faculty; prestigious visiting artists and scholars; exhibitions opportunities; Baltimore's vibrant art scene; and competitive Research Assistantships for applicants who qualify. For more information or a tour, please contact our graduate program director Vin Grabill.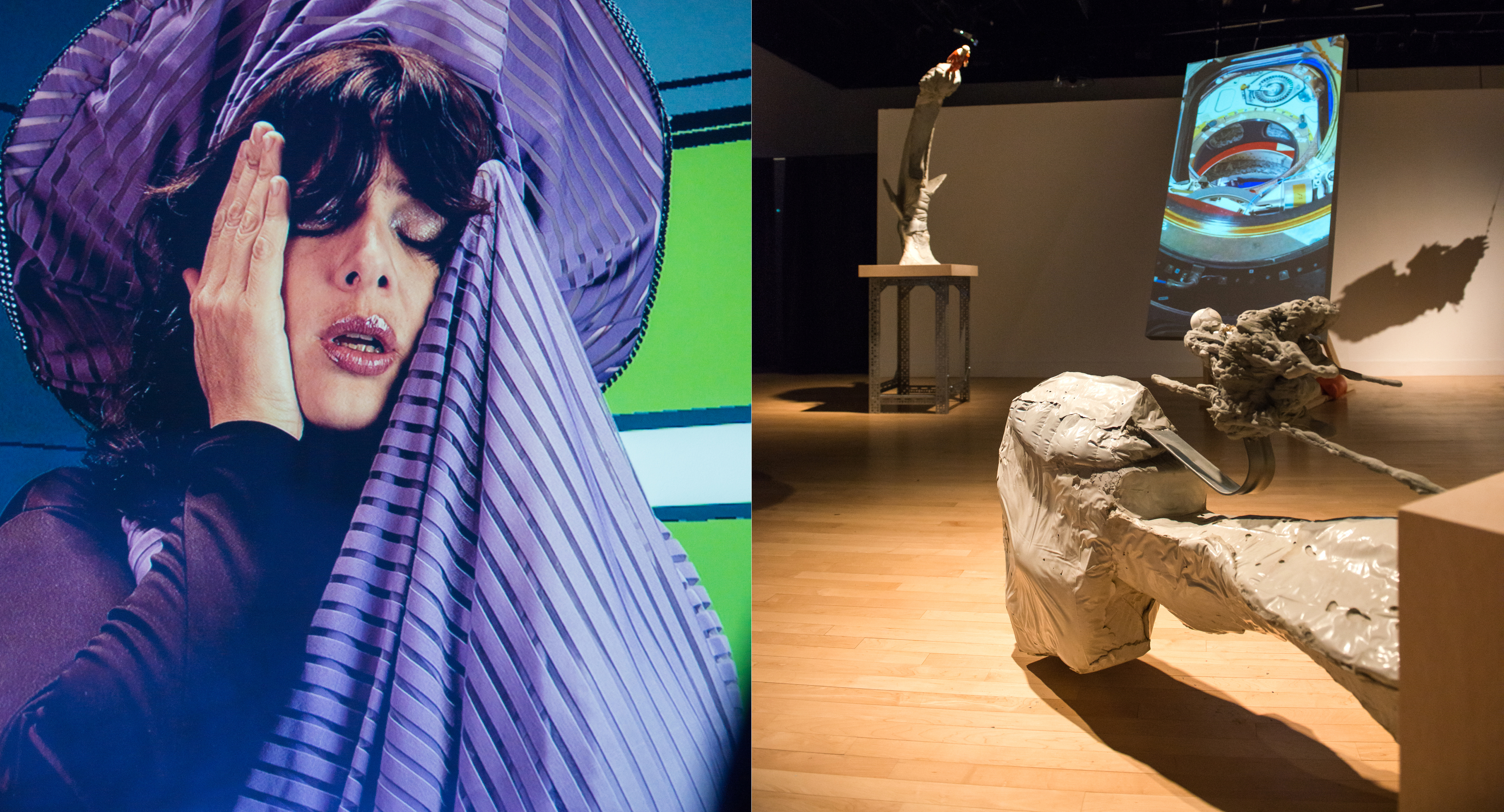 IMAGE CREDIT
Images are from the MFA Thesis Exhibition at the Center for Art Design and Visual Culture [CADVC], April 2016.
Left Tom Boram '16 "Star Trick: The Next Iteration", interactive modular HD video [stills], 2016. Image Courtesy of the artist.
Right Cliff Evans '16 "The Way Station and the Gravity Well" MFA Installation view at the CADVC. Photography by Marlayna Demond.