Glass Oil Blood – MFA Thesis Exhibition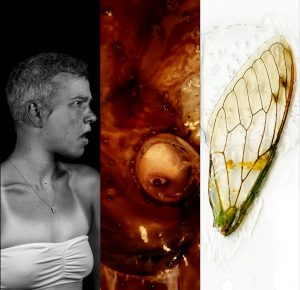 Opening Reception: April 13th, 5:00 – 7:00pm @ CADVC
Through April 14 – April 28
at Center for Art, Design and Visual Culture
Featuring: Melissa Penley Cormier, Ghazaleh Keshavarz, and Jaclin Paul
UMBC's Center for Art, Design and Visual Culture (CADVC) and the Department of Visual Arts present the 2017 Intermedia and Digital Arts Master of Fine Arts Thesis Exhibition "Glass, Oil and Blood."
Intermedia works on display will include time-based works, digital photography, objects and installations presented by three MFA Candidates in the Intermedia and Digital Arts (IMDA) program: Melissa Penley Cormier, Ghazaleh Keshavarz and Jaclin Paul.
Originally from Appalachia, Melissa Penley Cormier creates time-based projects, installations, objects and works on paper. She received a BFA from Radford University in oil painting. Her MFA thesis project Fret + Focus is a time-based work made up of 365 microscope slides that physically sample worries in a way that allows them to be observed and archived. Viewing devices are borrowed and hand-made from various found objects and optical devices and fragments.
Naftoon is a multimedia art installation poetically integrating the essential role of oil in Iranian society through photo, video, audio, and animation elements by Ghazaleh Keshavarz. Keshavarz is an interdisciplinary artist with an emphasis on photography, installation, and site-specific projects. This installation explores the history of oil from the discovery of it in 1908, through the nationalization of oil in 1951 and up till now. Keshavarz received a BA in Photography from Tehran University of Art in 2012 and is UMBC's RTKL Award recipient of 2017.
Jaclin Paul presents Sibling Portraits, a series of large-scale photographs that explore relationship, similarity, difference and family mythology through digitally manipulated photographs of eight brothers and sisters, along with animation and audio elements. Her work about the semiotics and pragmatics of phenotypes depicts her subjects in real and imagined spaces, directly implicating the photographer, the siblings, and by proxy, the viewer. Paul, a Shriver Fellow at UMBC, received her BFA in Photography and Painting from the School of the Art Institute of Chicago (SAIC) in 2015 and spent a year in Ghana with the Peace Corps in 2014.
Admission to all events is free. Free parking is available immediately adjacent to the Performing Arts and Humanities Building in Lot 8 during evening and weekend hours.
For more information about the exhibition contact the CADVC, call: 410.455.3188 or visit: cadvc.umbc.edu
For more information on the IMDA MFA program or to contact the MFA candidates, contact the Graduate Program Director: lmoren@umbc.edu.
The Center for Art, Design and Visual Culture is open Tuesday – Saturday, 10 a.m. – 5 p.m., and is located on the first floor of the Fine Arts Building.
RTKL Fellowship Award Lecture by Ghazaleh Keshavarz: Thursday, April 27, 2 – 3 p.m.
Go to event page.
The Intermedia + Digital Arts MFA program is committed to emerging practices that pose unique conceptual and social challenges. Graduate students are provided with newly retrofitted downtown Baltimore studios, state-of-the-art labs; close relationships with active faculty; prestigious visiting artists and scholars; exhibitions opportunities; Baltimore's vibrant art scene; and competitive Research Assistantships for applicants who qualify. For more information or a tour, please contact our graduate program director Vin Grabill.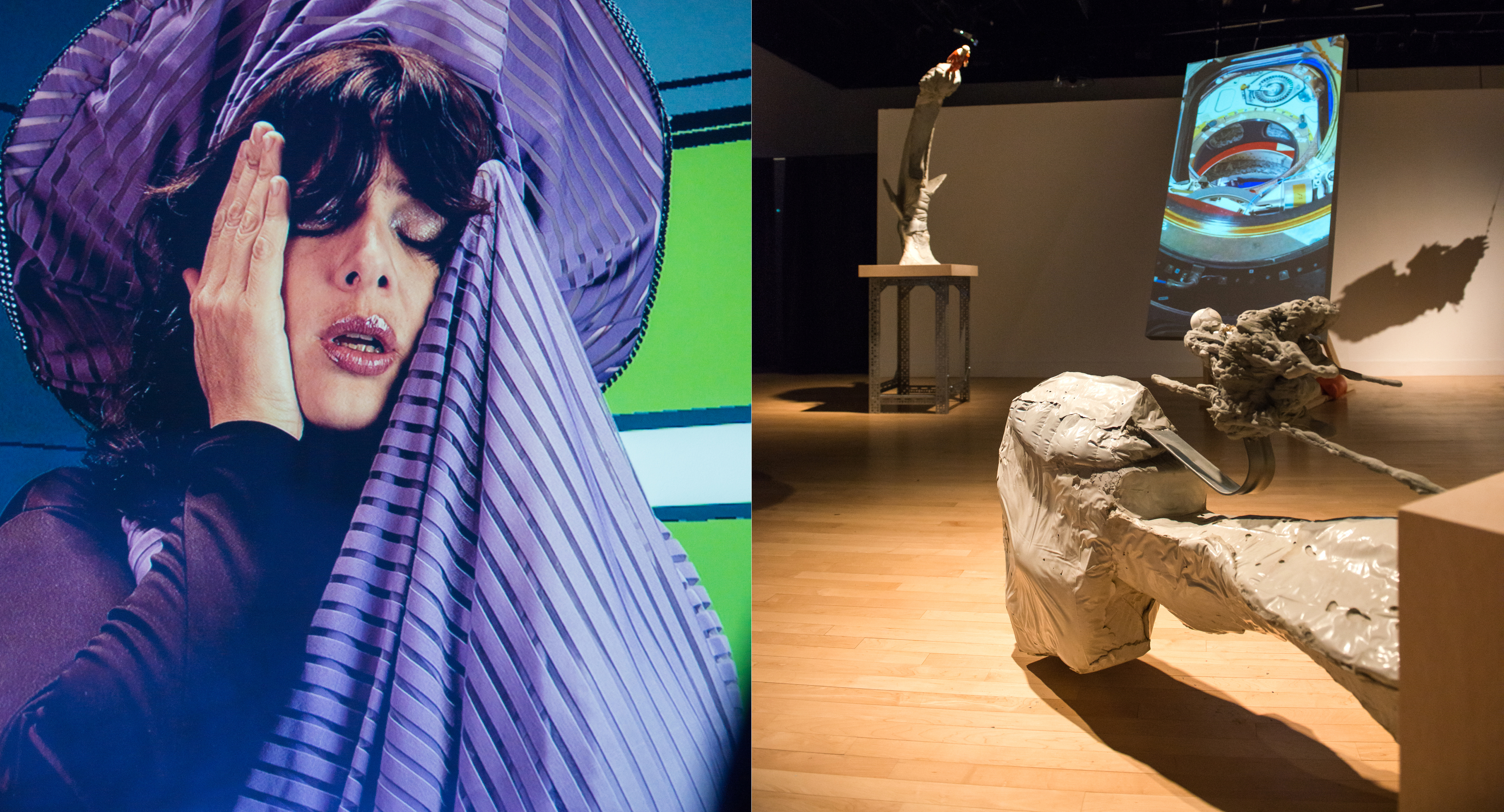 IMAGE CREDIT
Images are from the MFA Thesis Exhibition at the Center for Art Design and Visual Culture [CADVC], April 2016.
Left Tom Boram '16 "Star Trick: The Next Iteration", interactive modular HD video [stills], 2016. Image Courtesy of the artist.
Right Cliff Evans '16 "The Way Station and the Gravity Well" MFA Installation view at the CADVC. Photography by Marlayna Demond.