BADLANDS
2019 Intermedia + Digital Art MFA Thesis Exhibition
Tuesday, April 9 – Saturday, April 26
Center for Art, Design and Visual Culture
Reception: Friday, April 12, from 5 to 7 p.m. 
Satellite Events
Saturday, April 13, 12-3pm: Nicole Ringel & Leah Michaels; Lion Brothers Studio
Sunday, April 14, 2-5pm: Leah Michaels; Full Circle Photo
Thursday, April 18, 2pm: RTKL Lecture with Chinen Aimi Bouillon
ORAL DEFENSE SCHEDULE
The public is invited to join the Oral Defenses. Please arrive 15 minutes prior to start time. Orals are sealed, with the doors shut for the hour duration. No one will be allowed in or out during the exam hour.
Thurs. 4/25/19 
3:30pm Leah Michaels
Weds. 4/24/19
11:00am Dilay Kocogullari
MFA Thesis Award
Mina Cheon (IMDA '02), presented the first MFA Thesis Award to graduating IMDA student Parastoo Aslanbeik. This fund was founded and inspired by Mina, and the IMDA program is especially grateful for her leadership and generosity. Each year, one graduating IMDA MFA student will be awarded $1000 for the most outstanding thesis exhibition and written thesis.
Cara Ober, artist and editor of B'more Art, served as the juror for the 2018 award.
Selected photos from the MFA Thesis Exhibition, Lucky Suns
The Intermedia + Digital Arts MFA program is committed to emerging practices that pose unique conceptual and social challenges. Graduate students are provided with newly retrofitted downtown Baltimore studios, state-of-the-art labs; close relationships with active faculty; prestigious visiting artists and scholars; exhibitions opportunities; Baltimore's vibrant art scene; and competitive Research Assistantships for applicants who qualify. For more information or a tour, please contact our graduate program director Lisa Moren.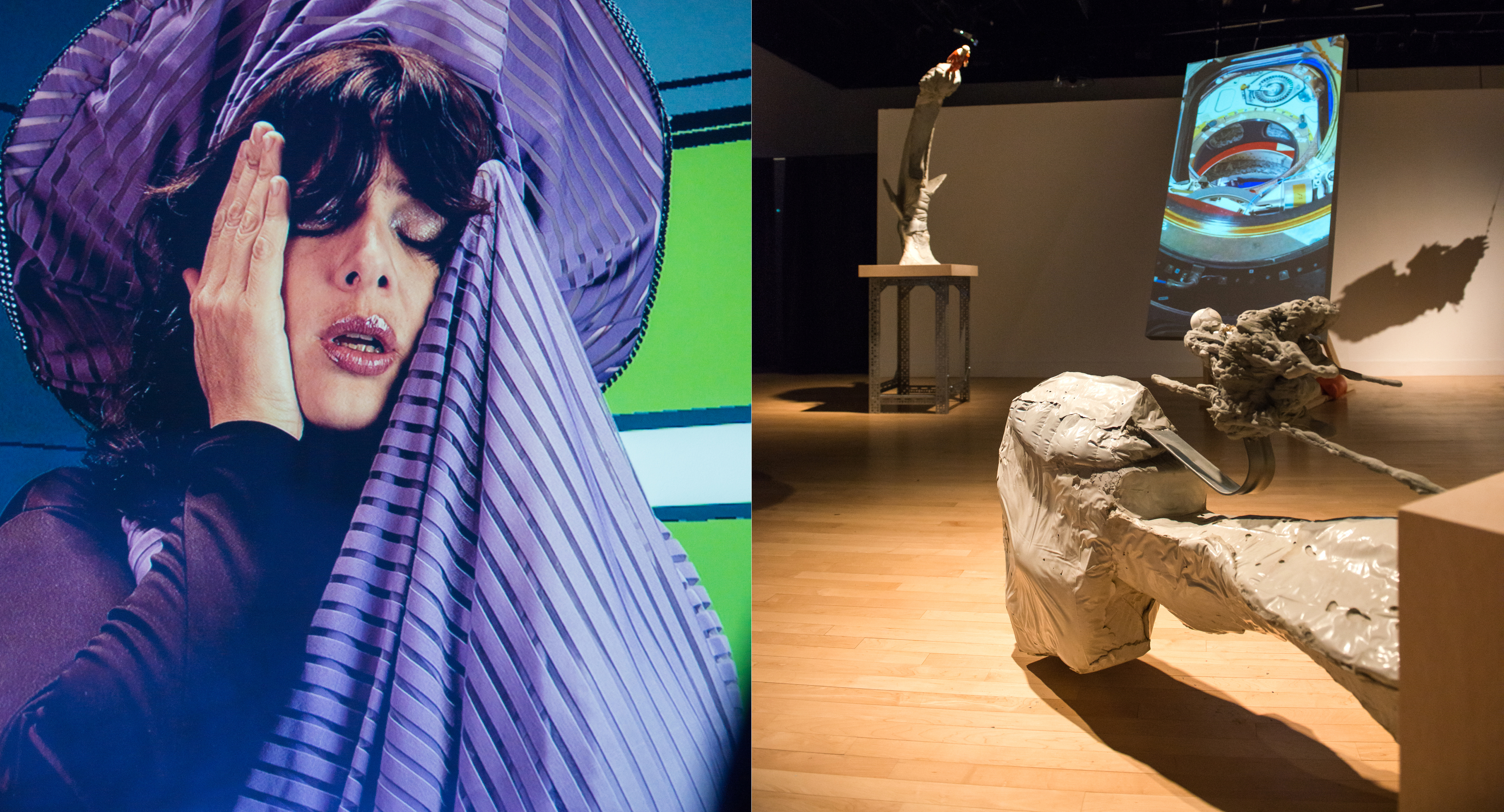 IMAGE CREDIT
Images are from the MFA Thesis Exhibition at the Center for Art Design and Visual Culture [ CADVC ], April 2016.
Left Tom Boram '16 "Star Trick: The Next Iteration", interactive modular HD video [ stills ], 2016. Image Courtesy of the artist.
Right Cliff Evans '16 "The Way Station and the Gravity Well" MFA Installation view at the CADVC. Photography by Marlayna Demond.