IMDA WELCOME EVENT
Join us in welcoming our incoming class of 2021, presenting the Friends + Alumni MFA Inaugural Award, and for a guest lecture by 2000 alumni Tewodross "Teo" Melchishua Williams. Friday, Sept 21, 1 – 3:30 PM at Lions Brothers Building.
TEO MELCHISHUA WILLIAMS, IMDA 2000
Tewodross "Teo" Melchishua Williams is a producer, filmmaker,
animator, projection designer, professor and afrofuturist. His current
narrative, mini-documentaries and dramatic films combines film,
video, animation, motion graphics and visual art within both short
and long film formats. His work explores concepts in science fiction,
music and culture. Mr. Melchishua Williams also works in visual
branding, music supervision and projection design for theatrical
productions and other live events through his film and digital media
collective, Visual Jazz located in the Gateway Media Arts Lab in
Mount Rainier, MD. Teo also serves as an Associate Professor and
Program Coordinator of the Visual Communication and Digital Media
Arts program (VCDMA) in the Department of Fine and Performing Arts
at Bowie State University. He teaches courses in digital media, film
production, animation, motion graphics, hip-hop studies and visual
culture. For more information on Teo Melchishua Williams see:
‣ visualjazzmedia.net
‣ @soulcinematic
‣ bowiestate.edu | @vcdma
MFA Thesis Award
At our graduate review day event today, Mina Cheon (IMDA '02), presented the first MFA Thesis Award to graduating IMDA student Parastoo Aslanbeik. This fund was founded and inspired by Mina, and the IMDA program is especially grateful for her leadership and generosity. Each year, one graduating IMDA MFA student will be awarded $1000 for the most outstanding thesis exhibition and written thesis. Cara Ober, artist and editor of BmoreArt, served as juror.
Selected photos from the MFA Thesis Exhibition, Lucky Suns
The Intermedia + Digital Arts MFA program is committed to emerging practices that pose unique conceptual and social challenges. Graduate students are provided with newly retrofitted downtown Baltimore studios, state-of-the-art labs; close relationships with active faculty; prestigious visiting artists and scholars; exhibitions opportunities; Baltimore's vibrant art scene; and competitive Research Assistantships for applicants who qualify. For more information or a tour, please contact our graduate program director Lisa Moren.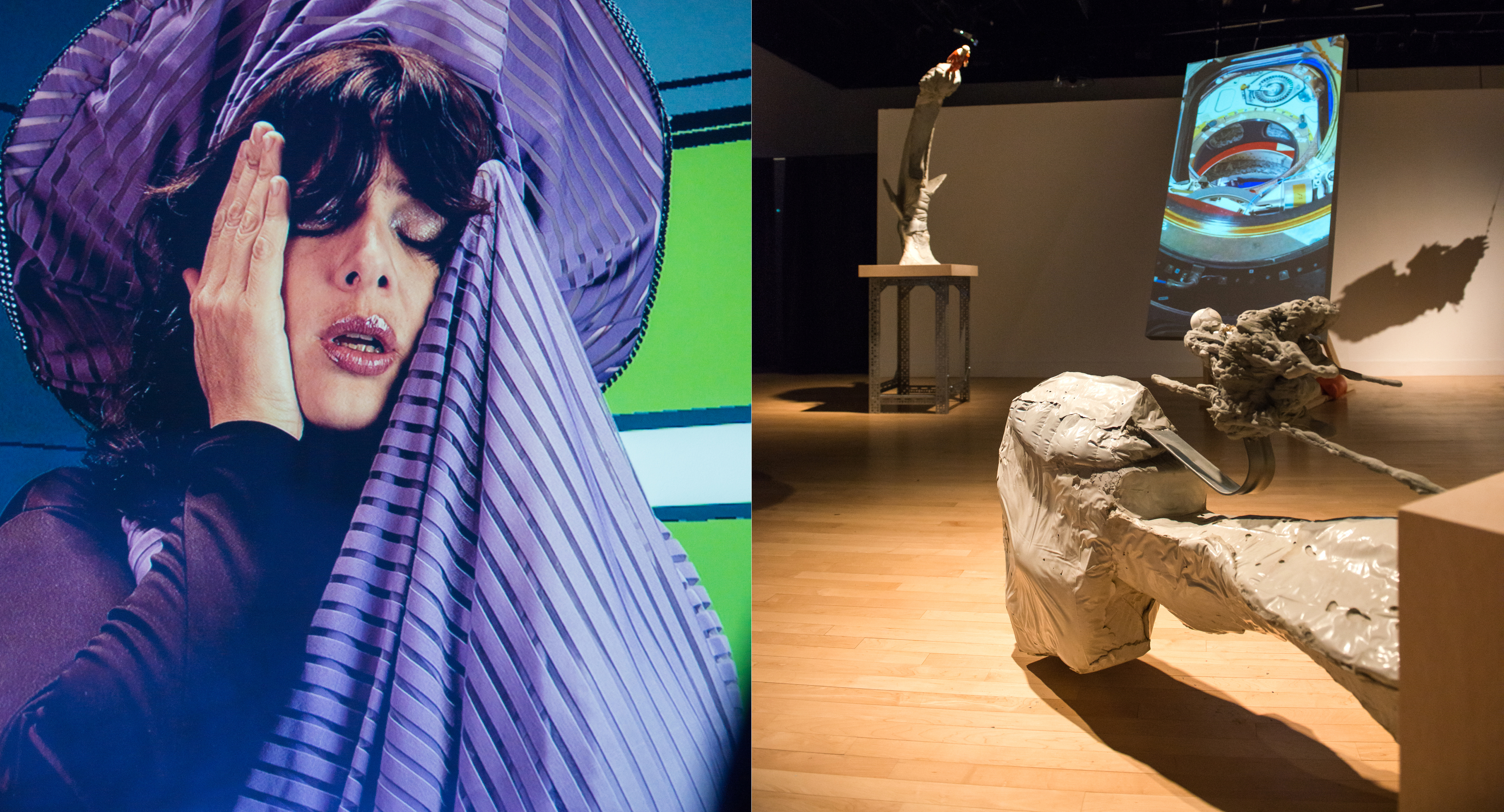 IMAGE CREDIT
Images are from the MFA Thesis Exhibition at the Center for Art Design and Visual Culture [CADVC], April 2016.
Left Tom Boram '16 "Star Trick: The Next Iteration", interactive modular HD video [stills], 2016. Image Courtesy of the artist.
Right Cliff Evans '16 "The Way Station and the Gravity Well" MFA Installation view at the CADVC. Photography by Marlayna Demond.