___________________________________________________________________________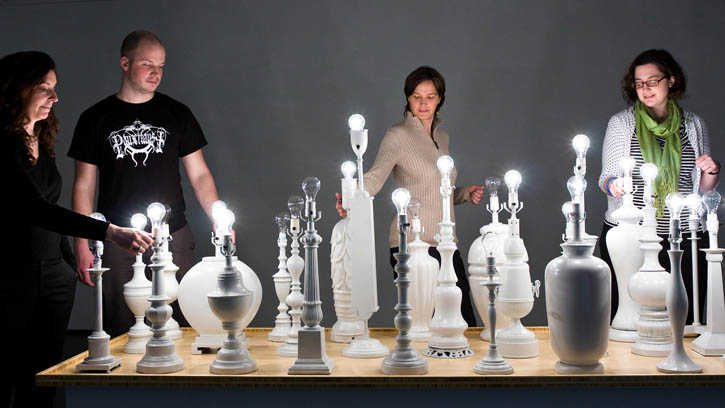 Above Tiffany Holmes (IMDA '97), darkSky, 2009, electricity logger, computer, monitor, re-purposed table lamps.
IMDA Alumni Event
Friday February 5, 5:30-7pm
Park Tower Suite 8205
UMBC's Visual Arts Dept will host an IMDA Graduate Student and Alumni Event Friday evening during the CAA Conference with special guests interactive artists David Rokeby and Alumna '97 Tiffany Holmes, Interim Dean of the Art Institute of Chicago. Dean Holmes and David Rokeby will be presenting their work in the panel described below. The alumni event will take place in the Park Tower Suite 8205, Lobby Level of the Washington Marriott Wardman Park Hotel, 2660 Woodley Road NW, Washington DC 20008. The Marriott is the conference headquarters where all conference functions will be located. All are welcome.
IMDA Panel
Saturday February 6, 9:30-12noon

Washington 3, Exhibition Level
Panel chaired by Professor Lisa Moren, IMDA Graduate Program Director
"Algorthimic Pollution: Artists working with Data, Surveillance and Landscape"
along with co-chair Ingrid Bachmann [Concordia University], where
Tiffany Holmes
[IMDA '97 and Dean of Art Institute of Chicaco] and
David Rokeby
[independent artist and Prix Ars Electronica Golden Nica],
Jason Hoeschler
[Georgia Southern University] and
Dana Dal Bo
[independent artist]. CAA highlights this panel as a
"Session Pick"
and it's a followup to the exhibition "CYBER IN SECURITIES" curated by Prof Moren for the Washington Project for the Arts [WPA], Experimental Media Series in 2013.
 ________________________________________________________________________________________________
UMBC's INTERMEDIA + DIGITAL ARTS (IMDA) MFA Program is where interdisciplinary artists seek to expand or reinvent their professional practice. The IMDA program is committed to artists that pose unique conceptual and social challenges while offering them an environment that provides courses in emerging methods, contemporary art and theory, a studio, teaching opportunities, engaged faculty, premier visiting artists and research centers that are typical of a research university. Each year these emerging artists present their culminating work in the form of installations, new media, performance, interactive sculpture and other conceptual art objects. The MFA exhibition is created with a professionally designed journal published by IMDA Journal.