Linlin, Associate Professor, Xiamen University, China
Fall 2015 through Summer 2016
Installation and media artist Linlin observes people and the environment around her, and finds many points of interest wherever she happens to be. Making her work is a way of mapping these observations. Encountering new faces and spaces triggers many associations that can be over-stimulating. She finds a balance point in her art.
Her photos, mixed-media work, video, and installations are markers of remembered discoveries in every day life.  In her video work "Wind," the movement of air becomes an invisible energy and memory that courses through her body. For her ceramic installation, Doorplate, she launched a topic on the Internet asking participants: " What doorplate number made the deepest impression in your memory?" With the collected numbers and stories submitted, she created a wall of illuminated doorplates. These numbers held strong memories for participants and the installation represented a marker on a psychological map of human experience.
"In our time, material is extremely rich, production and abandoned products, construction and demolition of buildings, everything happens in between silent. We need to figure out our personal requirements."
Linlin is an inter-media artist who lives and works in Xiamen, China. Her work incorporates new media elements, such as photography, ceramic installation, animation, video, and drawing.  She is Associate Professor and the Director of Teaching and Research in Digital Media Art Majorof Art College in Xiamen University. Since 2009, Professor Lin has collaborated with animation and film organizations and has received Chinese Animation and Design Awards including a Silver Award for "best mobile phone animation" at the International Animation Festival in Xiamen. She was the art director of a 26-episode animated television series, Yongchun Baihe Boxing. In 2012, this series received the National excellence animation award. A 26-episode animated television series, Beauty and Happiness, of which she was general director, received the National excellence animation award in 2011. Also in 2011, she won honorable mention for "Huihuang Art Center Design" in the International Nest competition.
Linlin has received numerous solo commissions, awards and fellowships including: National Endowment for the Arts; China Scholarship Council; Culture industry development special fund of the Chinese Ministry of Education; Xiamen Culture and Art Center; De Appel (Contemporary Art Center), Amsterdam; Rijk Museum, Enschede, the Netherlands; Gallery <Art system>, Toronto, Canada; and the Embassy of Holland. Her installation and video art have been exhibited and presented nationally and internationally at venues such as: Qidian art center, Quanzhou; Vitamin Creative Space, Guangzhou; Casual location art space, Beijing; "Le Printemps De Chine," Crac Alsace Altkrich, France; Waddenkunstprij, Harlingen, the Netherlands; Villa Weiner, Ochtrup, Germany; Chinese European Art Center, Xiamen, China; and Nicolas Chapel, Amsterdam, the Netherlands.
---
Neja Tomšič, Fall 2014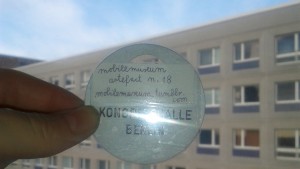 Neja Tomšič was the first Artist-in-Residence with the IMDA MFA program. Ms. Tomšič was in residence in Fall 2014, and was involved in many IMDA art activities, and other activities on campus and in downtown Baltimore with Life After Boring Art Studios (LAB Studios), and in Washington DC.
Neja's residency was sponsored by CEC Artslink International in New York, with additional support from the CIRCA's Visiting Artists Lecture Series, and Life After Boring Art Studios (LAB Studios) in Baltimore City. LAB Studios hosted her accommodations and activities in Station North Arts and Entertainment District.
Neja Tomšič is a visual artist and writer from Ljubljana, Slovenia. She co-founded the Museum of Transitory Art (MoTA) in Ljubluana, in 2008. Through MoTA, Ms. Tomšič has been involved in developing open platform media, curating public art projects, symposiums, residencies, publications, and interviews with relevant international artists and researchers. MoTA is a trans-disciplinary platform dedicated to the research, production and presentation of transitory, experimental and live art forms. She came to IMDA to research practices of archiving transitory works and strategies for audience development and engagement in the US.
For more info see:
www.motamuseum.com
cecartslink.org/grants/participants/residencies_awardees_2014.html
lifeafterboring.tumblr.com